The economy is more global than ever: East and West are inextricably interwoven, borders are almost irrelevant. But borderless digital communication is a myth – at least with China. Even if your employees are up to date in intercultural communication and your website is professionally translated, your customers and business partners in the second largest national economy in the world are still sitting in front of their screens and waiting. They are waiting for your company's web content, which is delivered by your current server or hosting.
Why are websites and servers from the West hardly accessible in China, if at all?
---
Because of censorship in China, data packages from the West have to surmount the "Great Firewall of China". Even if content is not rejected, this seriously slows down its delivery.
Often 20 to 40 percent of the data packets are lost on their way to China. This factor is far more crucial than the actual latency to China.
China's external connection to the western internet and hence also the data transfer rate to China are fundamentally poor.
Once the package is inside China, its delivery is further delayed by poor networking between the Chinese providers.
How to surmount the Digital Wall
Stop waiting. Jump over.
---
The constant technical development of the "Great Firewall of China" presents Western companies with growing challenges in delivering their own websites and applications to users in China. Anyone who wants to reliably overcome China's digital firewall today needs a partner with strong and modern cloud solutions. With weber.cloud China, you can bring your web content through the firewall to your Chinese customers securely and without delays.
weber.cloud China connects - fast and reliable.
Servers in China
and Germany

Your web application is delivered via the weber.cloud servers in China – directly from the Chinese mainland. For companies with no office in China, we offer hosting in Germany with a weber.cloud direct connection, which enables fast data transport through the Great Firewall. Always included: premium peering to the 3 major Chinese providers.
German
contractual partner

Our cloud solutions come from an owner-managed mid-sized German company and have been specifically designed for mid-sized companies as well as international corporations from Europe.* We conclude our contracts according to German law – taking into account the applicable Chinese requirements.
Support in
three languages

Our colleagues speak German and English as well as Chinese. As experts in intercultural communication, we understand the individual needs of your employees and online marketing specialists in Germany, Europe and China alike. We ensure that in the end everyone involved in the project is enthusiastic about the weber.cloud China solution.
Conducting the
ICP application

The operation of a website in China requires a state permit, the so-called ICP license. If you opt for a solution with a server in China, you will receive full support from us when applying for this license. Our help ranges from compiling all the necessary documents to submitting them to the responsible authorities in China.
3 ways over the wall
---
Hosting in Germany with a direct connection to China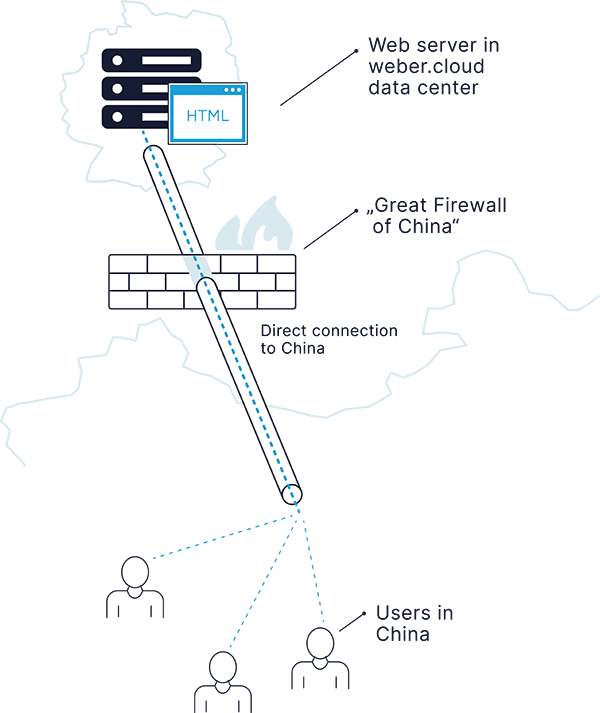 The hosting of your website (CMS, online shop, web application, etc.) takes place in our weber.cloud data center in Germany. To ensure high performance data transfers between the Chinese visitors and the weber.cloud server in Germany, two special dedicated connections are available from the data center to China. Fast packet delivery times and almost no packet loss can thus be guaranteed.
Low cost solution
Requires the hosting of your website in the weber.cloud data center
Very high level of data security and protection against industrial espionage, as the application remains outside China
No ICP license or PSB filing required
Recommended:
for companies without an office in China and those with very high data protection requirements
Request hosting in Germany
Proxy cache server in China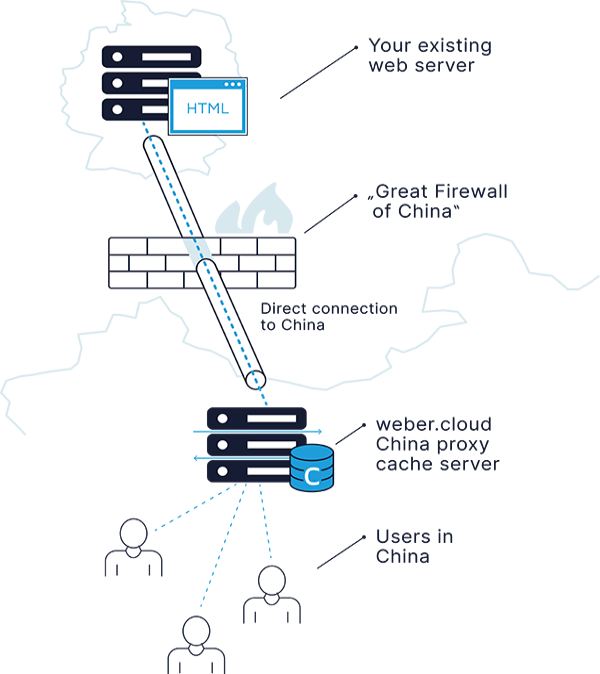 Our weber.cloud China proxy cache server is located on the Chinese mainland and has two fast, direct connections to Germany. Your actual website (CMS, online shop, web application etc.) is still located on your current hosting server. Your website's static data is cached on the server in China.
Chinese visitors communicate exclusively with the server in China and access the cached data. Dynamic data are retrieved from your hosting server as and when required and delivered to China via the fast, direct connections.
A proxy cache solution in China can be realized as a VPS or dedicated server.
Considerably better performance than direct access to a server outside China
Works with your already existing hosting
No maintenance of a separate system or a separate application in China is needed; we manage the proxy cache ourselves
High level of data security and protection against industrial espionage, as the actual application remains outside China
Can be used in combination with globally distributed proxy cache servers and GeoDNS service to set up a Content Delivery Network, allowing for a fast website delivery worldwide
ICP license and PSB filing, which we will gladly help you with, are required
Recommended:
for static, non-personalized websites with average performance requirements
Request proxy cache server
Direct hosting in China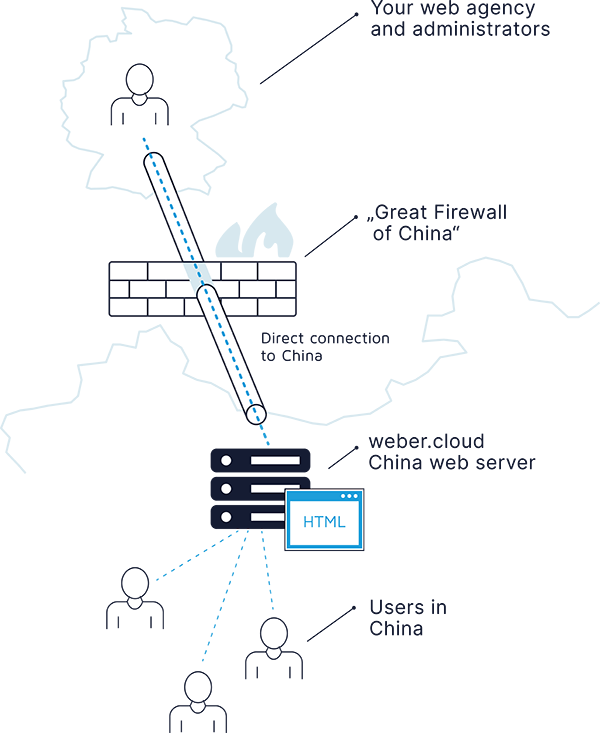 Your website (CMS, online shop, web application, etc.) is hosted directly on a weber.cloud China server, which is located on the Chinese mainland and on which all the data are held. Chinese visitors access the website directly from this server. The outstanding Internet connection of the server ensures fast data transfers with all large Internet providers in China.
The hosting in China also has two fast direct connections to Germany. This ensures that your web agency and administrators in Europe can access the system with high performance and manage and update it centrally.
The direct hosting in China is also possible in the form of a VPS, dedicated server or shared web hosting.
Best-performing solution (speed and availability)
No communication across Chinese borders required
Low level of data protection, as the application is located entirely within China.
ICP license and PSB filing, which we will gladly help you with, are required
Recommended:
for personalized and performance-critical websites and shops
Request direct hosting in China
Your German cloud and contractual partner
weber.cloud China by weber.digital GmbH
---
The hosting of global websites belongs in the hands of experts. We are one of the leading German cloud service providers and have more than 25 years of experience. All of our solutions come with German engineering, German quality and German reliability.
We see ourselves as reliable and competent experts for cross-industry cloud services. We are also your point of contact in those cases in which standard solutions are not enough or the requirements and service level agreements become complex. Since 2000, we have operated our own data center at our company headquarters in Germany, hosting several thousand demanding business customers and domains. In 2016, we expanded our cloud from Germany to China, where our weber.cloud China servers are operated in China Telecom data centers. Since this wall-breaking milestone, our hosting solutions no longer stop at the Chinese border.
Global customers operating in the Chinese market such as Continental, Kaldewei and ifm are trusting us for several years already and bring their multifaceted web presences to China with our market-leading cloud solutions. Long-term, reliable and fast.
Find out more about our cloud services in Germany.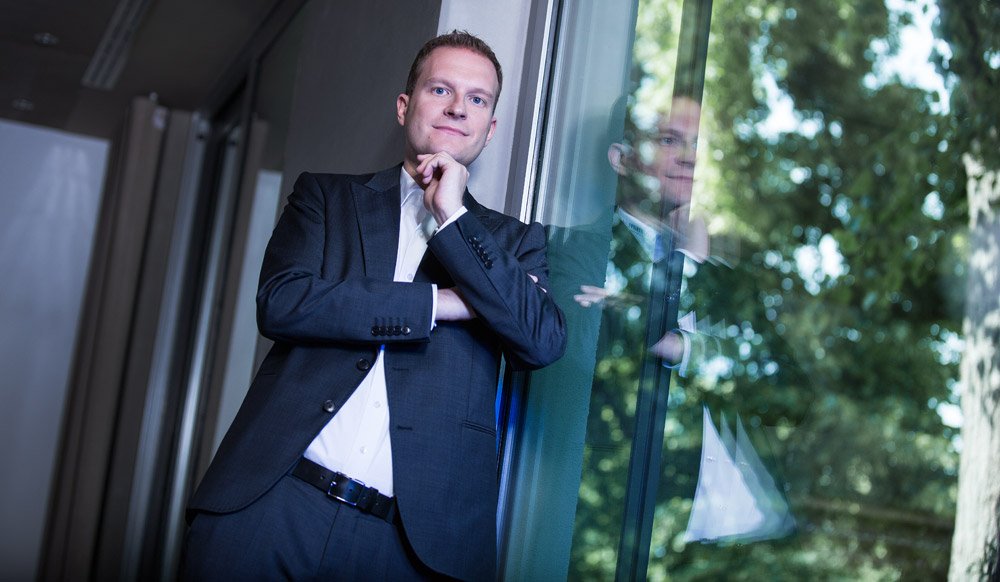 Foreign websites can only be accessed with a great deal of patience, if at all, using China's external connection. The latest technology and a competent cloud services partner are indispensible to get your website to China with enduring reliability and security.
Contact Us
It´s free and with no obligation
---
Companies who already trust in weber.cloud China: